INTRODUCING RICHARD KEITH STEINER
WOODBLOCK PRINTMAKER
Chinshi Yu-shih, art critic

I have known Richard Steiner as a printmaker from his Hiroshima days in the early 1970s, when he first began studying under Masahiko Tokumitsu. His early works were assignments given him by Mr Tokumitsu, one of the founders of the Independent Printmaker Movement, and so reflected that style and technique. The emphasis was more on art than craft, on realistic renderings, more or less, than pure self-expression or abstract. After 10 years, he received his artist's name, Tosai, and a teacher's license, then opened his own workshop in Kyoto. His first student was a young Indian woman, an exchange college student. After her there followed many more foreigners, but the vast majority of students were and still are Japanese.

Richard Steiner was born in Michigan, USA, in 1939. His father was a code maker and breaker for the Army during the war, then a life-long postal employee. His mother was a court reporter and traveller. From her, Richard got his curiosity for going to other countries. Both he and his younger sister, Leslie, have strong creative talents; hers covers both two- and three-dimensional art, while his was originally photography, and after 1970, woodblock printmaking. He is married to Kimiko, a translater and owner of SAT, Steiner Art Translation. She is an art and religion translator with well over 100 publications to her name.

Quitting a career in fashion photography in New York City in 1970, Richard accepted a job to teach english in Hiroshima for a private school where he worked for one year. He then taught for another school and also privately until moving in 1972 to Kyoto, which he has made his permanent home.

This is a very brief introduction. As he always says, to understand him, one need only look at his prints; a true artist creates only self-portraits, regardless of what the subject matter seems to be. As the artist's moods change, so does the output of his or her hands. A careful study of Richard's prints will reveal what he is thinking and feeling as well as the trajectory of his oeuvre so far.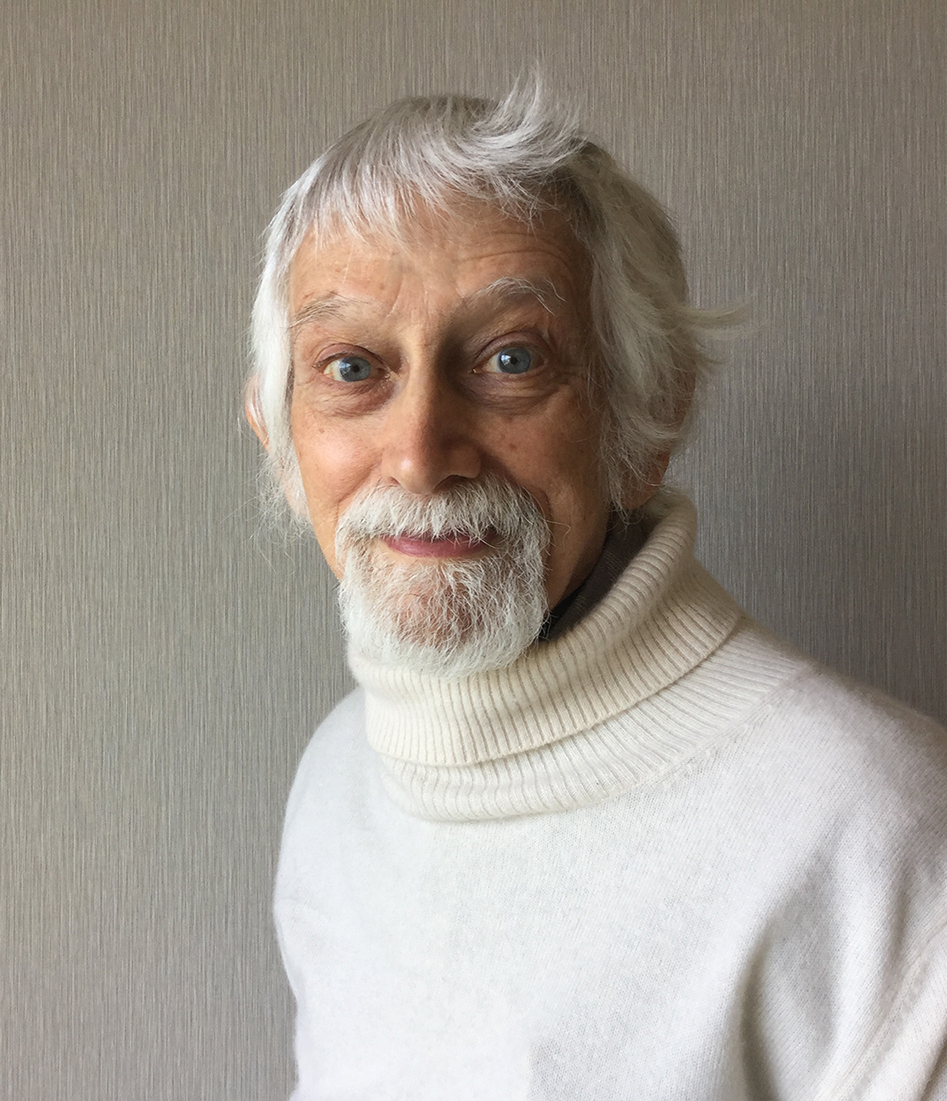 Brief History for
Richard Keith Steiner
Woodblock Printmaker

Born in Michigan, USA, in 1939. After working as a fashion photographer in New York City, came to Japan in 1970. Studied mokuhanga from Masahiko Tokumitsu for ten years in Hiroshima, and later from Toshi Yoshida in Miasa, Nagano Prefecture. After receiving the teacher's license and name Tosai from Tokumitsu, opened the studio in Kyoto in 1980 while teaching printmaking at Seika university. In 1997, inaugurated the Kyoto International Woodprint Association, KIWA, which holds major exhibitions every 4 years in Kyoto and elsewhere. Holding solo and group exhibitions continuously in Kyoto and many other cities in Japan as well as in U.S.A., Canada, Austria, Lithuania, and other countries. Works are owned by British Museum, Ethnological Museum in Rotterdam, and others. A member of Japan Print Society.

RESUME

Born in Saginaw, Michigan, USA, October 19, 1939
Studied woodblock printmaking under Masahiko Tokumitsu, Hiroshima, 1970 to 1980;
in 1980, received artist's name, Tosai, and teacher's license
In 1980, opened first workshop, Shugaku-in, Kyoto,
1976-1980, Artist-in-Residence, Friends World College, Kyoto Center
1979 to 1981 assistant to Toshi Yoshida's summer print courses, Nagano Pref.
1980-1990 art instructor, Seika University, Kyoto
1987 to 2010, Kyoto City Deaf Center print instructor
1996 to present, print and lettering instructor, Seika University, Kyoto
1996, begin developing with Holbein Color Works new, pure pigments for woodblock printmaking
1997, inaugurated the Kyoto International Woodprint Association, (KIWA); organized international print competitions from 1997;
1999, opened second studio, Blue Heron Workshop, Kyoto (closed: 2001)
2001, opened third studio and gallery, Inokuma Workshop, Kyoto(closed: 2016)
2002, invented, patented Tosai Mixing Brush
2005, designed new Kento Knife
2007, Tosai Pure Pigments go on sale in Japan,USA
2008, the name "TOSAI" copyright registered
2015, Inaugurated the Kyoto International Mokuhanga School, Kyoto
2017, opened fourth studio, Tosai Print Workshop, Tadekura, Kyoto

Solo Exhibition (selected)
1974, Riverside Gallery, Michigan
1975, American Club, Tokyo
1982, Kibune Gallery, Vancouver, Canada
1982, Yokota Gallery, Hiroshima
1983, Japan Foundation, 12-Year Retrospective
1984, Shunjukan Gallery, Osaka
1986, Heian Gallery, Kyoto
1987, Asupa Hall Gallery, Ayabe City
1987, Art-Kan Gallery, Fukui City
1988, American Club, Tokyo
1988, Shimane Pref. Museum of Art, Matsue City
1989, Kurashiki City Modern Art Museum
1989, Aizen Gallery, Ome City
1991, Chamber of Commerce and Industry, Izumi-Otsu City, Osaka
1997, Plaza Miki Gallery, Kanazawa
1998, Ryubo Hall, Naha, Okinawa
2000, Joint-Hot Gallery, Kyoto
2000, Hanamaki Culture Center, Iwate Pref.
2001, San Gallery, Kyoto
2003, Nantenso Gallery, Kobe
2006, San Gallery, Kyoto
2008, Sho Gallery, Kanazawa
2013, Musee Gallery, Kanazawa
2016, Hotei International Gallery, Kyoto
2017, "In The Meantime," Hill Gate Gallery, Kyoto
2018, "Woodblock Prints From Japan," Singapore, Bee Ling Gallery
Group Shows, small (selected)
1975, two person show, Nijo Castle Gallery, Kyoto (with Brian Williams)
1981, organized two person show, Oni Gallery, Kyoto, "The Measure of Paper" (with Takushi Sugimura)
1983, organized two person show, Hotel Sunflower Gallery, Kyoto (with Mariko Sahara)
1997, organized three person show, Mainichi Hall, Kyoto (with Yuka Yamamoto and Michael Doerrer)
2008, two person show, Gallery Sou, Kanazawa (with Yamanokuchi Tohru)
2009, g5 Voices, 1 Songh, Yamamoto Gallery, Kyoto (with 4 students)
2013, Cocoro-no-mori show, Teramachi Art Museum, Tokyo
2013, 27th Kyoto Art Festival, Kyoto City Museum
2014, Japan Print Society: First Exhibition of Kinki Branch, Kyoto Community House
2014, Out of the Woods, Peninsula Art School Exhibition, USA
2016, Hanga Kansai Rengo Kai, Nara
2016, Japan Print Society, Kansai Branch, Kyoto
2016, "8 Woodprint Artists From Japan" (curator), Innsbruck, Austria
2017, "Mokuhanga Artists Always," Oregon, USA
2017+, "Diversity Innovation: International Printmaking" tour, Canada, England, USA
Group Shows, large (selected)
1972 | 1985; 1999 to present, Nihon Hanga Kai (Japan Print Association) exhibitions, Tokyo (awarded New Talent Prize, 1976)
1973, Kyoto City New Art Exhibition, Kyoto
1979, Kyoto City New Art Exhibition, Kyoto
1981-1983, Shina-no-Kai Print Group Shows, Kyoto
1984, UNESCO Art Exhibition, Kyoto
1984 to present, annual Workshop Exhibitions, Oni Gallery (7 years) and Kyoto International Community House
1985, Miniature Print Exhibition, Poland
1985, UNESCO Art Exhibition, Kyoto
1986, Miniature Print Exhibition, Spain
1986, Miniature Print Exhibition, Toronto, Canada
1988, First Kyoto Nippon Kai Print Association Exhibition, Kyoto City Art Museum (was exhibition director)
1988, International Art Exhibition, Kobe
1988, 1990, International Rotary Exhibition, Takashimaya Dept. Store, Kyoto
1990, Two-Workshops' Show, Handicraft Center, Kyoto (with Tomikichi Tokuriki)
1994 to present, annual To-no-Kai Print Shows, Osaka, Kyoto, Wakayama
1999, Calligraphy and Prints, B-One Gallery, Ginza, Tokyo
1999, Expressions Graphics Show, Illinois, USA
1999, Baren Print Portfolio, Manhattan Graphics Center, NYC
2000, I Muestra de Mini Gravura-Vitoria, Brazil
2001, 100 Universes Exhibition, Contemporary Crafts Gallery, Oregon
2006, 15 Japanese Printmakers, Oregon (curator, participant)
2007, 15 Japanese Printmakers, Texas (curator, participant)
2009, Kyoto Art Festival Kyoto City Museum
2009, International Triennial, Bitola, Macedonia
2011, International Charity Show for Tohoku Disaster, Kyoto International Community House
2013, 54th Japan Print Society, Tokyo Municipal Museum
2014, 55th Japan Print Society, Tokyo Municipal Museum
2015, 56th Japan Print Society, Tokyo Municipal Museum
2015, Intersections, three-year traveling exhibition: Canada, USA, UK, Europe, Japan
2016, 57th Japan Print Society, Tokyo Municipal Museum
2017, 58th Japan Print Society, Tokyo Municipal Museum
2017+, "Woodcut Effects" Lithuanian Japanese Mokuhanga Exhibition Tour (curator of Japanese section); Lithuania, Germany, Poland
2018, Post Card prints, Kobe
Collections and Gallery Representatives
Tollman Collection, Tokyo
Rotterdam Ethnological Museum
Kyoto City Government
United States of America Consul residence, Kobe
Bank of America, Tokyo
Japan Foundation
Metropolitan Museum, New York
Victoria and Albert Museum, London
British Museum, London
Naha City Government
Japanese Gallery, London
Ronin Gallery, New York
Sirius, Inc., Tokyo
Books (all handmade and handbound)
1979, Alphabetic Tale
1981, She Took It
1982, Fushimi Clay Dolls
1986, Some Flowers With Interesting Names
1997, Worm's View
2003, Little Barth Goes Up
2010, My Life (lino), Eating Out (lino)
This selected resume has been updated June 2017.
---
Stdio auddress:
65-6 Tadekura-cho, Shimogamo, Sakyo-ku, Kyoto, Japan 606-0806
tel: +81 (75) 721-9246; fax: +81 (75) 702-1726
---