WELCOME TO THE HOMEPAGE OF WOODBLOCK PRINTMAKER, RICHARD KEITH STEINER

Thank you for coming to my official homepage.
I've been making mokuhanga without a break for over 50 years, since 1970, and am far from losing interest in this fantastic art medium. There has almost never been a lost for ideas; I have come to realize that there are many more prints remaining to be made.
Over the years I've added more prints (see Art Works), notes on the prints' meanings (see Artist's Talk), newer tools and printmaking materials (see Tool Bench), exhibition and workshops (see Events), and made ordering faster and easier (see Order). Take your time and leisurely look the site over. Contacting me with questions and comments is more than welcomed anytime. Again, thank you for visiting today.
---
updated:

2023.02.20

Artist's Talk: No.20

2023.02.20

2023.01.18

Artist's Talk: No.19

20. "By the way, Pontius "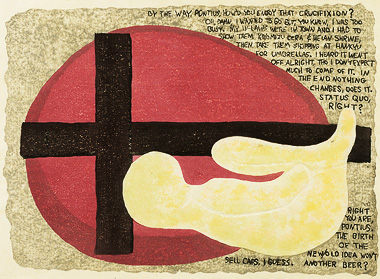 February, 20, 2023 new!



Another comment on ignoring what life is actually all about, missing some of the truly important spiritual things going on around us. Pontuis and a friend are talking about Jesus' crucifixion. The embossed image is of the babe in the manger, at the other end of what we need to understand.

Quotations:
"By the way, Pontius, How'd you enjoy that crucifixion?"
"Oh, damn, I wanted to go but, you know, I was too busy. My in-laws were in town and I had to show them Kiyomizu dera and Heian Shrine, then take them shopping at Hankyu for umbrellas. I heard it went off alright, tho I don't expect much to come of it. In the end nothing changes, does it. Status quo, right?"
"Right you are, Pontius. The birth of the new/old idea won't sell cars, I guess. Another beer?"


I began to make videos that demonstrate my way of 50+ years of woodblock printmaking. Mostly short, they come in no class order; ideas are dealt with answers to students' questions. Your questions after watching will lead to additional videos.
Here are some first introductions to look at:

Setting up moistening pack
Moistening Paper
Knife Sharpening, Chapter 1
Knife Sharpening, Chapter 2
Knife Sharpening, Chapter 3
Oiling the Bamboo Baren
Splitting the Hairs of the Brush

Please click the "Like" button, if you learnt something new;
if you want to learn more, subscribe to this channel.

The videos were made by my student Jere Kilpinen from Finland.