WELCOME TO THE HOMEPAGE OF WOODBLOCK PRINTMAKER, RICHARD KEITH STEINER

Thank you for coming to my official homepage.
I've been making mokuhanga without a break for over 50 years, since 1970, and am far from losing interest in this fantastic art medium. There has almost never been a lost for ideas; I have come to realize that there are many more prints remaining to be made.
Over the years I've added more prints (see Art Works), notes on the prints' meanings (see Artist's Talk), newer tools and printmaking materials (see Tool Bench), exhibition and workshops (see Events), and made ordering faster and easier (see Order). Take your time and leisurely look the site over. Contacting me with questions and comments is more than welcomed anytime. Again, thank you for visiting today.
---

21. "Peace, peace"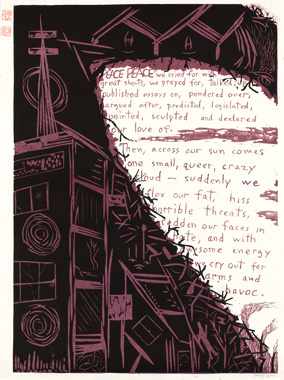 May, 24, 2023 new!



A large, only two-color print, yet powerful in its shapes and words. The hypocrisy of governments and other so-called leaders is attacked here. They say one thing, in public, when all seems well, but think/say quite another thing in private or when events go against their preconceptions. There is no compromise; "I am right, you are wrong." And destruction results.

Quotations:
Peace, peace we cried for with great shouts, we prayed for, talked up, published essays on, pondered over, argued after, predicted, legislated, painted, sculpted and declared our love of. Then, across our sun comes one small, queer, crazy cloud - suddenly we flex our fat, hiss horrible threats, redden our faces in hate, and with awesome energy we cry out for arms and havoc.


I began to make videos that demonstrate my way of 50+ years of woodblock printmaking. Mostly short, they come in no class order; ideas are dealt with answers to students' questions. Your questions after watching will lead to additional videos.
Here are some first introductions to look at:

Setting up moistening pack
Moistening Paper
Knife Sharpening, Chapter 1
Knife Sharpening, Chapter 2
Knife Sharpening, Chapter 3
Oiling the Bamboo Baren
Splitting the Hairs of the Brush

Please click the "Like" button, if you learnt something new;
if you want to learn more, subscribe to this channel.

The videos were made by my student Jere Kilpinen from Finland.