WELCOME TO THE HOMEPAGE OF WOODBLOCK PRINTMAKER,
RICHARD KEITH STEINER
Here, you will find the most recent woodblock prints by Mr Steiner, plus some older pieces, a few of which are still available. All are printed in the traditional Japanese techniques, or original variations of them, using natural fiber paper and water-based pigments. Mr Steiner has been making prints for over 45 years; since 1980 he has been teaching the art and craft of mokuhanga to both Japanese and foreigners; from 2015, he opened the Kyoto International Mokuhanga School. Navigating this site is easy following the menu and arrows. For making comments or getting information on purchasing prints or tools, go to either Contact or Ordering. Thank you for stopping by.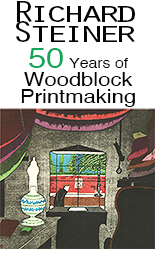 Solo Exhibition
July.21- 26, 2020
Gallery Hill Gate
Kyoto, Japan