WELCOME TO THE HOMEPAGE OF WOODBLOCK PRINTMAKER, RICHARD KEITH STEINER

Thank you for coming to my official homepage.
I've been making mokuhanga without a break for over 50 years, since 1970, and am far from losing interest in this fantastic art medium. There has almost never been a lost for ideas; I have come to realize that there are many more prints remaining to be made.
Over the years I've added more prints (see Art Works), notes on the prints' meanings (see Artist's Talk), newer tools and printmaking materials (see Tool Bench), exhibition and workshops (see Events), and made ordering faster and easier (see Order). Take your time and leisurely look the site over. Contacting me with questions and comments is more than welcomed anytime. Again, thank you for visiting today.
---

18. "St. George and the Dragon"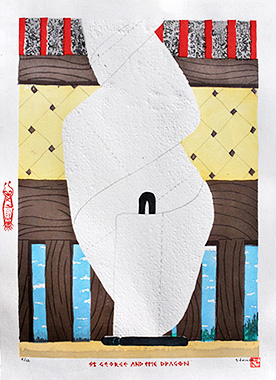 January, 28, 2021 new!



This work represents a little-used theme of copying another's work, but periodizing it, sometimes subtly as in this piece, and sometimes not. The leitmotif of George slaying a dragon has been painted and printed many times in art history. So, I thought I would add my take on this incident. Looking around my studio, I noticed hiding on my table's corner a paper towel with its metal stand going up thru the roll. Might this not have been similar to the way George killed the beast, running his sword up the middle of the animal's body? It might. I added in the background a mix of cultural touches for non-denominational's sake.